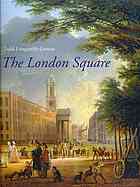 cloth, 332 pp., $65.00
Todd Longstaffe-Gowan has compiled a massive history of squares in London. According to the book cover, he is "a landscape architect, President of the London Parks and Garden Trust, gardens adviser to Hampton Court Palace and has recently redesigned the gardens of Kensington Palace." Because of the size of this book, it at first appears a little intimidating, but the author has brought in so many interesting human details and provided a tremendous wealth of photographs, detailed plans for squares, and even humorous sketches, that it is very accessible and entertaining. He explores the major issues concerning the development of this very English piece of land over the last four centuries and what these squares—be they the traditional rectangular shape or crescents, circuses, or polygons—have represented socially, politically, and even as a health issue to Londoners. A map on page 242 clearly shows the large amount of green space in London. This exploration of the special world of these often private, sheltered spaces within an urban area may make the reader long to have just such a retreat.
— Joan Richards, volunteer, Chicago Botanic Garden.