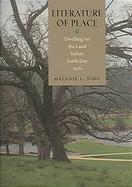 Publisher:
University of Virginia Press
hardcover, 271 p., $39.50
Examining the spirit of a place, author Melanie Simo reviews a wide range of authors and their works from 1890 to 1970 in this book on comparative literature. Each ficticious or factual account has as its theme the people and places that make an area or site memorable. She divides the selected work into two sections. In the first, she reviews stories about regions of the United States, from coastal New England towns westward as far as Hawaii. In the second part, Simo has gathered reminiscences of sites with special character, such as a small garden or an abandoned farm. Her collection of narratives does not exclude places without charm, especially those in the later years when authors such as Rachel Carson, told foreboding stories about the future of the environment. Simo's examination of each work includes a biographical sketch of the individual writer, providing the reader with greater understanding of why each site bore special meaning to its author. This text will be especially meaningful to those interested in landscape history.
— Marilyn K. Alaimo, garden writer and volunteer, Chicago Botanic Garden