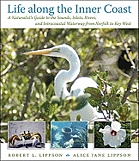 Publisher:
University of North Carolina Press
cloth, 454 pp., $35.00
Having traveled for decades along the inner coast waterways from Chesapeake Bay to the Florida Bay, marine scientists Robert and Alice Lippson have become familiar with the varying salinity of the waters, the wide variety of habitats that nature has to offer, and the range of animal and plant life that dwell in each environment. The authors divide the inner coast system into five regions, each with a locator map: Norfolk to the Carolina Sounds; the Outer Banks to the Lowcountry; the Lowcountry to the Indian River Lagoon; the Indian River Lagoon to Miami; and Miami to Key West. The text then features descriptions of the different habitats, as well as the plant and animal life found there. Excellent line drawings illustrate the individual environments and their inhabitants. Supplementary materials include a glossary and a listing of plant and animal species in the individual regions. This comprehensive work is written by recognized authorities in a discursive style that will entertain and inform the reader.
— Marilyn K. Alaimo, garden writer and volunteer, Chicago Botanic Garden