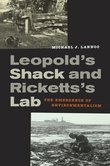 Publisher:
University of California Press
Cloth, 196 pp., $24.95
Before Rachel Carson's unsettling Silent Spring (1962), there were two remarkable men who influenced the direction of today's environmental activities. A prominent research scientist in the field of biology and the environment, Michael Lannoo introduces the innovative theories of this pair in this comparative study of their works. The author first recalls the parallels in the life stories of Aldo Leopold and Ed Ricketts: born in the Midwest, less than 200 miles apart, they suffered separate deaths suddenly within a few weeks of each other in 1948. Although their lifestyles were in high contrast, they shared "complementary perspectives" about the environment, even though they were unfamiliar with the other's work. In addition to chronicling their backgrounds, Lannoo presents a survey of the history of conservation, noting different eras in the movement: he travels in time from collections of curiosities, to observations of living species and data documentation, and finally today's viewpoint: the need for better direction in ecology in order to save the planet. Heavily referenced and annotated, this book is highly recommended to all those interested in the beginnings of the environmental movement.
— Marilyn K. Alaimo, garden writer and volunteer, Chicago Botanic Garden