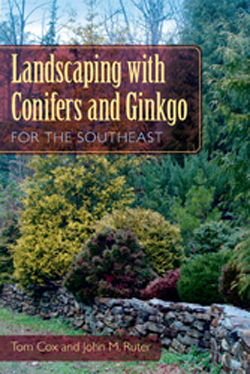 Publisher:
University Press of Florida
Paper, 289 pp., $29.95.

In this guide for gardeners who want to add winter interest to their gardens, two recognized authorities on the subject bring attention to suitable species and varieties of conifers and ginkgo for the southern part of the United States. The authors' expertise is evident in their collective experiences in growing, conducting plant trials, and evaluating environmental differences of these evergreens. Their goal is to encourage a reader to choose species that have performed well and are readily available. They provide information on selection, growing, and care of the best of these trees for a particular climate. This book should be on a must-have list of wise gardeners. —Marilyn K. Alaimo, garden writer and volunteer, Chicago Botanic Garden.