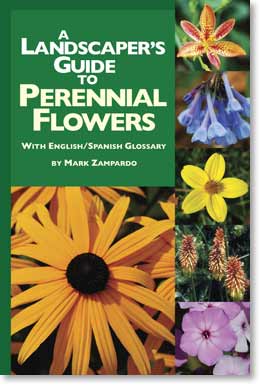 Publisher:
American Nurseryman Publishing
paper, 214 pp., $24.95
Mark Zampardo calls this a "plant identification book, plain and simple." That it certainly is, but it contains such helpful detail and beautiful photographs, one could hardly consider it "plain." Zampardo dedicates a page to each plant, with the botanical name (with a pronunciation guide underneath), the common name, a short description of leaves, flowers, bloom time, size/shape, special requirements, garden use, hardiness zone, other names, and on the bottom of each page a space for your own notes. This is a compact book, designed to be carried on a visit to a nursery or garden. In the back are indexes by binomial and common names. All of the photographs are by Zampardo--with one picture of the overall plant, and one or two details of a flower or leaf.
A discussion of how plants are named, followed by a glossary in both English and Spanish, is helpful for the novice gardener. The only complaint about this book was the very small print in the sidebar for the USDA Hardiness Zone Map. This guide would certainly be helpful to a beginner as well as an advanced gardener.
— Joan Richards, library volunteer, Chicago Botanic Garden