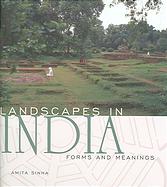 Publisher:
University Press of Colorado
cloth, 228 p., $55.00
Indian-born American landscape architect and educator Amita Sinha sensitively surveys the archetypal forms and symbolism found in the landscapes of her native country in her scholarly book Landscape in India: Forms and Meanings. Sinha focuses on how these elements are related to India's culture and the use of space in landscape design. She observes that "the widespread presence of archetypes in sacred landscapes reflect deep, perhaps even unconsciously held, beliefs" before she discusses the landscape patterns that can be found at ancient sacred sites, as well as in contemporary designed landscapes. This heavily annotated work includes a helpful glossary, an index, and an extensive bibliography. In addition to landscape architects and designers, travelers to India will find this book to be enlightening reading.
— Marilyn K. Alaimo, garden writer and volunteer, Chicago Botanic Garden