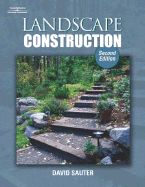 paper, 491 p., $92.95
The theme of this practical manual is understanding the landscape construction process, which requires a broad range of knowledge of construction techniques. Written by a landscape architect and educator, the book is meant as a text for students and practicing professionals in the field of landscape construction.
Author David Sauter first discusses legal documents and safety issues, which must be considered before any site work can begin. Construction math, project pricing, basic construction techniques and equipment operation, site staking and preparation, are then considered in the following chapters before discussion of grading and erosion control. The reader is instructed how to prepare a site for the installation of utilities, even though a separate contractor may be involved in this work. The text then examines hardscape projects such as retaining walls, stairs, landscape paving, garden structures, fences, and freestanding walls. The final section briefly covers site amenities — water features, bridges, furniture, signage, playground equipment, edging, planters, and plant protection equipment. The appendices contain various examples of specifications and math formulas, a sample bid form, and estimate and proposal documents. A glossary of terminology is particularly helpful for the student or nonprofessional.
Landscape Construction is an excellent educational tool. The author uses a clear, concise literary style for instruction, and the book includes many practical photographs and drawings. Property owners and gardeners will also find the instruction valuable in understanding the design and construction methods employed by professional contractors.
— Marilyn K. Alaimo, garden writer and volunteer, Chicago Botanic Garden