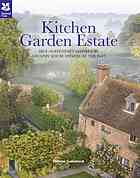 cloth, 191 pp., $29.95
Judging by the title of this book, I thought it might not be very interesting to those who have have neither a kitchen garden nor an estate. I was wrong. The estate described in the introduction from Daniel Defoe's The Compleat English Gentleman probably no longer exists. However, Gammack leads us through the development and changes in kitchen gardens, along with the history of peripheral land and buildings such as dovecotes and poultry yards, orchards, beehives, hop gardens and vineyards, and even fish ponds and deer parks. The book is full of charming photographs and paintings of estates as well as home and model farms. There are old recipes as well as modern recipes, including one for sloe gin (p. 85).
— Joan Richards, volunteer, Chicago Botanic Garden.