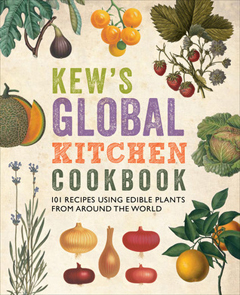 Publisher:
Royal Botanic Gardens, Kew
Paper, 160 pp., $25.00.

This cookbook is dedicated to edible plants from around the world, from Kazakhstan to Kent. Carolyn Fine's introduces unusual plant material, combining them with excellent illustrations and unusual recipes. Ready for pickled blueberries? How about adding pine nuts to mashed potatoes? Consommé à l'indienne includes onions, apples, coconut, curry, bones and meat from a chicken, an egg white, and lemon juice. A table for conversions, abbreviations, and a complete index are included in this work. Even you never attempt a recipe from this work, you will find it a great read, learning about new edible plants and their use in kitchens around the world. - Adele Kleine, volunteer, Chicago Botanic Garden.