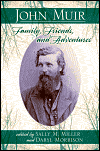 Publisher:
University of New Mexico Press
cloth, 281 p., $29.95
Editors Sally Miller and Daryl Morrison have gathered together a collection of essays on John Muir, the great American environmentalist who awakened the nation to the importance of preservation of the natural places and wild things. Taken from works presented by historians at the John Muir Institute in 2001 at the University of the Pacific, the essays cover a wide range of subjects. These include discussions of his family, friends, travels, activities in forest conservation, and his legacy, through interpretation of his life and work.
Born in Scotland in 1838 to a strict Calvinist father, John Muir had relatively carefree early years. When Muir's family immigrated to America, settling in Wisconsin, he was enchanted with nature, but he had little opportunity to enjoy the outdoors, for he was expected to labor long hours on the farm under the harsh upbringing of his father. Notwithstanding such restrictions (or possibly due to them), Muir became a romantic idealist, and identified the wilderness as a place for self-fulfillment. The chapters in this collection explore the naturalist's personal and professional relationships, as well as his travel adventures. The individual viewpoints of the contributors help to fill out the portrait of an extraordinary spokesperson in the promotion of wilderness preservation.
— Marilyn K. Alaimo, garden writer and volunteer, Chicago Botanic Garden