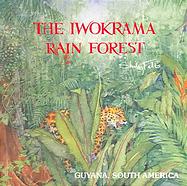 Publisher:
Iwokrama International Centre for Rain Forest Conservation and Development
paper, 42 p., $17.95
Located in Guyana in South America, the Iwokrama Rain Forest serves as the subject of the text and art in this work by American painter Shirley Felts. Capturing the exotic beauty of fauna and flora in her paintings and delicate sketches, she tells of her impressions of the jungle and the story of the Iwokram International Rain Forest Programme, which was established in 1989 for the purposes of conservation, research, and training. For anyone interested in modern rain forests, this book will be a welcome addition.
— Marilyn K. Alaimo, garden writer and volunteer, Chicago Botanic Garden