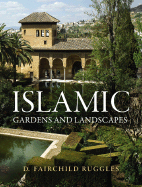 Publisher:
University of Pennsylvania Press
cloth, 262 pp., $49.95
Erasing many of the myths about Islamic gardens and landscapes with his extraordinary scholarship, landscape historian D. Fairchild Ruggles traces the origins of these gardens back to the practical needs of farmers to organize resources and provide irrigation for agricultural sites. Geometrically laid out in four parts with axial walks that met in the center, the chahar bagh style was the common landscape scheme across the Islamic world. Though some writers have given a religious interpretation to this style in recent centuries — calling them "gardens of paradise" — the author maintains that the earliest gardens were for recreational pursuits with no reference to religious connotations. Heavily illustrated with photographs and site plans, Ruggles' impressive evidence is based on extensive sources: court documents, agronomy reports, poetry, and early artistic renderings. This impressive, erudite discussion is highly recommended to all those with interest in Islamic culture, architecture, and landscapes.
— Marilyn K. Alaimo, garden writer and volunteer, Chicago Botanic Garden