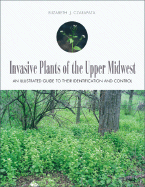 Publisher:
University of Wisconsin Press
paper, 215 p., $26.95
Published posthumously, this award-winning guide to identification and control of invasive weeds of the Upper Midwest has met with acclaim for its comprehensive treatment of plants that threaten the natural landscape. The author, Elizabeth Czarapata, a teacher and community volunteer concerned about the invasion of non-native plants threatening woodlands and wetlands, collected photographs of these invaders in different stages of growth and put together a model text with practical information on combating them. Categorizing the weeds according to the potential harm they do to the ecosystem, she then classifies them by type — trees and shrubs, vines, etc. The individual plant profile gives place of origin, habitat, current range, and characteristics, as well as methods of reproduction and control. A chapter also details plant control methods. The author discusses in detail why such plants cannot be ignored and the importance of ecological restoration, education, and community action.
This book is highly recommended to all gardeners and those who are concerned about the environment.
— Marilyn K. Alaimo, garden writer and volunteer, Chicago Botanic Garden