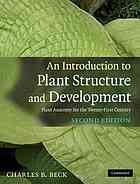 Publisher:
Cambridge University Press
Decorated boards, 441 pp., $75.00
Botanist Charles Beck declares that the volume of recent research activity in many areas of plant development necessitated an immediate update of this work, a college-level text, so that both students and instructors have material on the cutting edge of knowledge in this field. In addition to covering the descriptive aspects of structure, the author presents discussions of "the mechanisms of development including the genetic and hormonal controls, and the roles of cytoskeleton." Major emphasis is on seed plants (gymnosperms and angiosperms) in order to introduce concepts relating to the subject. There is a comprehensive examination of the cell wall; information on the role of apical meristem of the shoot in plant growth; and consideration of the various tissues and their systems in addition to a thorough review of plant anatomy. Well-illustrated with black-and-white photographs and drawings, the text contains valuable supplemental materials that include a bibliography for further reading and an extensive glossary.
— Marilyn K. Alaimo, garden writer and volunteer, Chicago Botanic Garden.