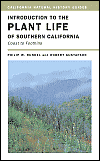 Publisher:
University of California Press
paper, 316 p., $18.95
California is blessed with a diversity of habitats for the nature lover to explore. One of a series of California Natural History Guides, this handy pocket-sized book covers those that may be found in the coast and foothills of several counties — Santa Barbara, Ventura, Los Angeles, Orange, San Diego, western Riverside, San Bernardino, and the Channel Islands. The text is organized by the different ecological types that may be found in this range, and more than 300 color photographs identify the biodiversity seen in each one.
The authors, scientists in the fields of ecology and botany, discuss each habitat in detail. With a literary style that is informative and engaging, they first present an overview of the habitat and then lead the reader on a tour of the landscape, starting with the more dominant plants in the ecological system. They also describe such things as the effect of fire on chaparral, the challenges of invasive alien species, and the different types of wetlands. To encourage the adventurous to learn more about natural history, the book contains a list of parks and public areas where these plant communities may be viewed in Southern California.
— Marilyn K. Alaimo, garden writer and volunteer, Chicago Botanic Garden