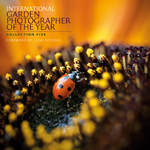 Publisher:
Kew (distributed by the University of Chicago Press)
paper, 160 pp., $30.00
This collection of photographs includes entries that are so artistic, so overwhelming in their capture of nature, that it seems they can't be surpassed. But wait for next year. The entrants are from many countries, but photography speaks a universal language. Each photograph reproduced in this work is identified by photographer and judged rating as well as a statement about content and equipment used. There is even a competition for young individuals, starting at 10 years old.
This is a book to be cherished not only for its beauty but as a teaching tool. Some of the photographs featured in this work have appeared at the New York Botanical Garden.
— Adele Kleine, volunteer, Chicago Botanic Garden