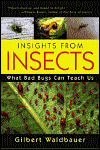 paper, 311 p., $18.00
Despite their vast numbers of species and overwhelming populations, insects are essential to the world's ecosystems and generally beneficial to mankind. However, a small percentage comes into conflict with humans, causing them to gain the reputation of pests and to become the target of man's efforts to control them. The highly respected entomologist Gilbert Waldbauer relates the stories of twenty insects, topping the list of the worst pests, and tells how in man's efforts to eliminate them, some profound insights have been gained into dealing with the wide world of insects.
The author is a knowledgeable raconteur and keen observer of nature and insects in particular. He calls upon a wealth of data and anecdotes, gathered from a lifetime of experience in entomology. Despite the technical nature of the information discussed, the text is understandable and entertaining. The reader comes away with a deep appreciation for the scientists who work in the laboratory and field to gain a greater understanding of the insect world and how to live in harmony with it. The book is recommended for students, naturalists, gardeners, and those concerned with public health issues.
— Marilyn K. Alaimo, garden writer and volunteer, Chicago Botanic Garden