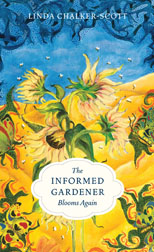 Publisher:
University of Washington Press
Paper, 242 pp., $18.95
Research scientist Linda Chalker–Scott is dedicated to bringing the latest scientific information to the gardening public. Whether its exposing folklore or traditional practices, the author fearlessly presents facts that will inform the reader of the latest accepted scientific information. Topics include diagnosis of common plant problems; understanding how plants work; soil and its amendments; and the effectiveness of miscellaneous "miracle" additives that promise marvelous benefits from their use. The format for each topic consists of her review of the "myth" of information on the subject, the reality of the situation, and "the bottom line," that is, the actual truth on the topic, based on the accompanying research references.
— Marilyn K. Alaimo, garden writer and volunteer, Chicago Botanic Garden