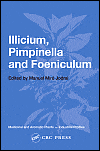 cloth, 232 p., $139.95
Certain plants that are commercially important in medicine and diet have become the focus of researchers in the field of phytotherapy. To meet the needs of the increasing interest of industry and science in medicinal and aromatic plants, this book is one of a series of publications developed for industrial researchers that treat the history, plant sources, cultivation, therapeutic properties, and importance of specified plants. The popular plants contained in this study are Illicium verum (star anise), Pimpinella anisum (anise), and Foeniculum vulgare (fennel), all species with essenses that are notable for their abundance of anethole, an oil responsible for the characteristic odor and flavor of anise.
Although the text with its charts and technical terminology is meant for researchers, others–such as gardeners, herb lovers, and academics–will find the sections on individual plant origin, traditional and contemporary usage in diet, medicine, and cosmetics, interesting reading. Those who favor the use of natural products in medicinal treatment should be guided by the warnings associated with certain plant usage.
— Marilyn K. Alaimo, garden writer and volunteer, Chicago Botanic Garden