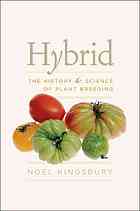 Publisher:
University of Chicago Press
cloth, 492 pp., $35.00
Addressing the gap between wild plants and cultivated crops, horticulturist and gifted storyteller Noël Kingsbury traces the long history in the evolution of natural and human-directed species. After first directing attention to traditional agriculture, the author relates the start of deliberate breeding efforts in crops, which were based on intuitive selection. It was not until the nineteenth century that a monk, Gregor Mendel, introduced the theory of scientific selection to plant breeding with the resultant introduction of the subject of genetics into politics. Broad in scope and heavily referenced, this admirable work presents the key issues in contemporary controversies over genetically modified crops.
— Marilyn K. Alaimo, garden writer and volunteer, Chicago Botanic Garden