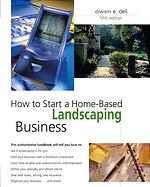 paper, 317 p., $18.95
This popular manual on initiating a landscaping business is based on the personal experiences of a registered landscape architect and contractor who has more than three decades of work in the field. The theme of the book is how to run a business successfully. In a literary style that is easy to understand, the text includes the fundamentals of securing proper equipment and employment, including such tips as how to develop a business plan, how to keep records, how to prepare bids, how to get paid, and much more.
The knowledgeable author points out the need for the novice to understand the demands of a profession that requires special attitudes, long hours and consistent, abundant energy. High on the list of necessary characteristics is the ability to work well with people in order to attract customers and to keep employees. Not only does the book cover immediate requirements, but it also considers long-range planning and some of the pitfalls a landscape business must avoid. An exceptionally complete reference of landscape-related resources and business forms can be found in the appendices. This practical publication by a successful professional is highly recommended for anyone starting a landscape business.
— Marilyn K. Alaimo, garden writer and volunteer, Chicago Botanic Garden