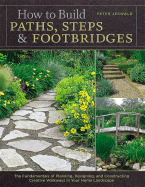 paper, 233 p., $19.95
Creating elements in the landscape that are both functional and aesthetically pleasing is the theme of this practical guide to construction with hardscape materials. With thirty years' experience in the construction industry, author Peter Jeswald has a broad range of knowledge to draw upon in the design and building of walkways. The information in this book, with simple descriptions of basic methods, is meant for use by the nonprofessional.
Before launching into garden planning and implementation, Jeswald introduces the subject with attractive photographs of different designs for garden spaces, using a wide range of materials for different budgets. The author takes the reader through the planning process before a review of the tools and materials that will be needed to complete a job. The text is illustrated with line drawings on how to work with stone, brick, and cement. It provides instructions on how to build pathways, steps, and simple footbridges. The author thoughtfully provides warnings when projects may require professional expertise.
Whether a reader likes the adventure of do-it-yourself garden projects or relies on professionals for such work, this book is recommended for its excellence in explaining the challenges of hardscape construction.
— Marilyn K. Alaimo, garden writer and volunteer, Chicago Botanic Garden