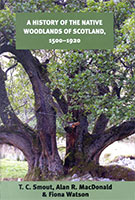 Publisher:
Edinburgh University Press
cloth, 434 p., $110.00
An inventory of the ancient native woodlands of Scotland taken during the last twenty-five years shows that only one percent of the ancient semi-natural woodlands remains, a disquieting figure for environmentalists, historians, and the public. Man's imprint on the ancient native woodlands of Scotland from the earliest times up to the 20th century is the theme of this book, written by three historians concerned with their environmental heritage. Posing the question of whether humans used the woodlands wisely over the years, they trace the extent and placement of native and naturalized trees and shrubs and their eventual decline under economic pressures. Focusing on the period from 1500 to the 1920s, the authors explore the changing relationships between trees and people; the varying interpretations of sustainability, a concept that was observed to evolve over time; the different management systems of users of woodlands, and the impact of outside management on the environment. Using case studies of specific woodland areas within and outside Scotland, they examine the effects of man and natural causes that led to deforestation.
Although the target area under study is Scotland, the factors that are considered, such as clear-cutting and overgrazing of forested landscapes, are common to other regions of the globe where woodland sustainability is an issue. From the results of different management systems, there may be applicable answers to different challenges abroad. This scholarly work is recommended to all those concerned with native woodlands all over the world.
— Marilyn K. Alaimo, garden writer and volunteer, Chicago Botanic Garden