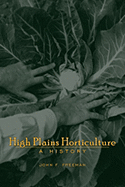 Publisher:
University Press of Colorado
cloth, 270 pp., $34.95
Lured to emigrate by land promoters, pioneers who settled in the high plains of the West, a region of harsh climate and little water, found an essentially treeless landscape that continually challenged the human condition. They faced drought, high winds, plagues of insects and jackrabbits, as well as inevitable loneliness on the fragile, barren land. Author John Freeman tells of their struggles to sustain themselves in this inhospitable country. He describes the influence of horticulture in the creation of permanent settlements. The land tested the endurance of settlers who fought to conquer nature. It was through the perseverance of many dedicated individuals seeking effective ways to grow crops and trees that the vast open space became a pleasant place to live. Freeman tells the story of these homesteaders, botanists, horticulturists, research scientists, and visionaries who sought to create productive, pleasant homes and communities.
— Marilyn K. Alaimo, garden writer and volunteer, Chicago Botanic Garden