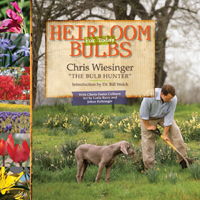 cloth, 180 pp., $34.95
Horticulturist and nursery owner Chris Wiesinger deserves to add another title, plant hunter, to his resume. Influenced by Dr. William C. Welch, his academic mentor, the author sought out hardy bulbs that would multiply and bloom every year in warm climates. After defining the term heirloom bulb, he tells of the challenges gardeners face in growing bulbs in the South. These environmental issues—the soil, humidity, cold hardiness, and other factors—also apply to other regions of the country; an accompanying soil map and a cold hardiness map from the USDA emphasize their importance. A directory of suitable bulbs for various environmental conditions lists individual descriptions and photographs of plants in categories according to ease of culture. Charming and inspiring stories about how he found individual specimens accompany many of the descriptions, adding a personal touch to his work. This highly recommended work is notable for bringing to public attention critical environmental issues for successful gardening.
— Marilyn K. Alaimo, garden writer and volunteer, Chicago Botanic Garden.