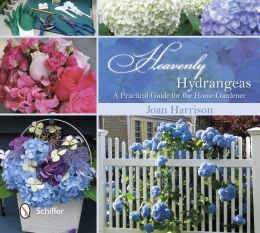 Cloth, 152 pp., $29.99.

This book is "heaven sent" for those who want a plant with a long season of bloom that is easy to maintain. Somewhat particular about their location in the landscape, hydrangeas offer the gardener a spectacular display when the plantings are selected with care and well situated. Author Joan Harrison became hooked on hydrangeas more than two decades ago. This book is based on her experience and research as well as the encouragement of members of the Cape Cod Hydrangea Society. She reviews the many factors to consider in the plant selection process, the traits of specific popular plants, and their proper maintenance. Stunning color photographs illustrate the beauty and proper placement of a wide range of plants. This guide goes one step further with a text description that includes appropriate conditioning of cut blooms for fresh flower arrangements and dried ones for hydrangea displays. Among the useful facts in the supplementary section, the author discusses answers to frequently asked questions. This book is highly recommended for both experienced and novice gardeners.
- Marilyn K. Alaimo, garden writer and volunteer, Chicago Botanic Garden.