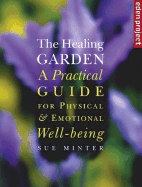 cloth, 192 p., $25.00
A proponent of the healing properties of plants and gardens for people, British author Sue Minter dwells on the relationship between plants and people. It is through the use of plants as medicine and food, as well as through their landscape value for pleasing the senses and providing a spiritual haven, that the quality of life is improved for human beings.
A noted authority on medicinal plants, Minter begins with the history of healing and a review of medical systems and healing arts around the world, including the development of new pharmaceuticals. Her expertise is reflected in the extensive information on the healing qualities of plants. The landscape section on sensory gardening relates to this theme, but the remaining material on design is less satisfactory because of its emphasis on decorative plantings and transitory features. Many of the landscape plants selected are not available in America or are unsuitable for American gardens in colder zones. Finally, there is no information in the book about the remarkable "Eden Project," which is readily available on the Internet. Future Eden Project books should at least include a paragraph about this effort.
— Marilyn K. Alaimo, garden writer and volunteer, Chicago Botanic Garden