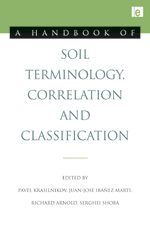 Decorated boards, 440 pp., $152.00
This comprehensive review of the current status of soil classification systems points to the fact that there is extraordinary diversity worldwide in such systems, much more so than those for plants and rocks. The editors of this volume have taken great pains to unravel the confusion in nomenclature and correlate local information with the World Reference Base of Soil Resources.
The editors suggest that this bewildering situation had its origins in prehistory with the founding of communities and the need to establish land rights. Soil quality and location became important issues, thus culture became linked with "terrestrial ownership."
This volume is divided into three parts — the theoretical bases of soil classifications; soil classifications of different nations since the coming of soil science in the late 1800s; and folk soil classifications. This book is of value to all soil scientists, as well as researchers concerned with issues related to soil classification.
— Marilyn K. Alaimo, garden writer and volunteer, Chicago Botanic Garden