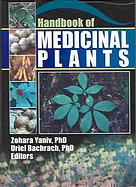 paper, 500 p., $59.95
Within the last three decades, there has been an explosion of interest in medicinal plants as scientists have sought to find new cures for chronic diseases that have shown resistance to synthetic drugs. Biologists Zohara Yaniv and Uriel Backrach have collected studies in the field of medicinal plants and created a comprehensive summary of the history and future of plant research. Their purpose is to encourage further research and public understanding of this complex, intriguing subject.
The book is divided into separate sections containing reports that deal with the challenges in the field. These include the various traditions and history of medicinal plant use; modern scientific technology; studies of different plants as curative treatments; and finally, the future of interdisciplinary medicinal plant research. Although this technical collection is meant for those with scientific interest in the medical and pharmaceutical fields, general readers will find the sections on history and ethnobotany intriguing.
— Marilyn K. Alaimo, garden writer and volunteer, Chicago Botanic Garden