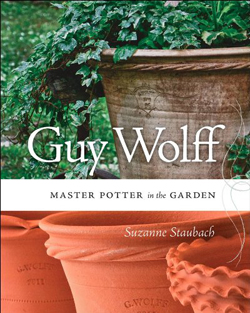 Publisher:
University Press of New England
Paper, 146 pp., $24.95.
 
This is an extraordinary biography about an extraordinary artist. The author, a potter herself, has gone to great detail in researching the history of pottery. Many gardeners own a Wolff pot or covet one. In explanatory photographs, we see the artist engaged in clay slip and pulling the sides of the pot into shape while spinning. His pots are all signed, with their weight recorded. Even, in comparison, a plastic six-inch pot weighs a few ounces, while his six-inch pot can weigh two pounds or more. Wolff lectures and demonstrates frequently. He taught a group of Chinese youngsters how to pot, and traveled to Wales to see old Welsh pots.     
- Adele Kleine, volunteer, Chicago Botanic Garden.