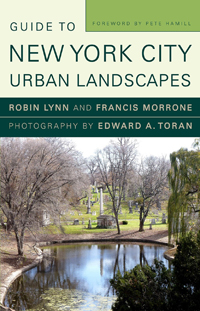 Paper, 288 pp., $29.95.

Much has been written about the need for green breathing spaces in large urban areas. The green spaces of New York City have long attracted attention for both inhabitants and visitors.  Authors Robin Lynn and Francis Morrone examine 38 sites along the water's edge and inland on Manhattan as well as in the boroughs. This handy-size guide contains reviews of selected sites, classified by individual placement and type. Photographer Edward A. Toran met the challenge of presenting the individual character of these spaces within the physical limits of this book's pages. As a result, this guidebook provides interesting histories and useful explanations for local and visitor alike.
- Marilyn K. Alaimo, garden writer and volunteer, Chicago Botanic Garden.