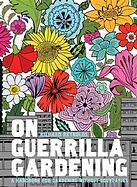 decorated boards, 255 pp., $25.99
In his introduction, the author describes his mission as fighting "the miserable public flowerbeds around my neighbourhood." Guerilla gardening goes back to the earliest days when a person cultivated another's piece of land without permission. Reynolds reports that the earliest publicized act of this type of gardening was in England in 1649. In this country, John Chapman, known as "Johnny Appleseed," traveled through settler towns in Pennsylvania and Ohio in the early 1800s sowing apple seeds. More recently, in 1969 students in Berkeley began what would become guerilla gardening with their plan to "take back the Park." Liz Christy, a young artist living in New York, was the inventor of "guerilla gardening" in 1973. From her first struggles in New York there grew an increased interest in reclaiming abandoned or neglected tracts of land. In many cases, these gardens consisted of only such tiny spaces as sunflowers in a small traffic island in the center of London. Some of the more imaginative plantings have been in car trunks resplendent with flowers. One clever guerilla planted his car and then moved it whenever the meter ran out.
This is a delightful book with helpful instructions on how to become a "guerilla gardener" — types of plants for specific conditions, appropriate apparel, tools, and even how to fashion seed bombs that can be tossed from your car. Reynolds discusses the problems of legitimization and the compromises often necessary for this. However, his conclusion is hopeful, showing that many spaces begun as guerilla gardens have now become thriving community gardens that represent "a different kind of society, one that is happier, more sociable and sustainable."
— Joan Richards, volunteer, Chicago Botanic Garden