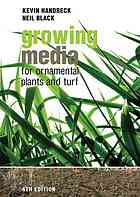 paper, 551 pp., $65.00
This work is the standard text for horticulture students and an essential reference for professional horticulturists and their colleagues in the business.
Thirty–three chapters start from the basic needs of plants for growth to composting and fertilizers to soil–borne diseases and hydroponics. In the eight years since the publication of the third edition of this work, much has changed in terms of understanding the efficient uses of water and soil. This quite accessible work provides a foundation for understanding the complexities of media for all plants.
— Adele Kleine, volunteer, Lenhardt Library, Chicago Botanic Garden