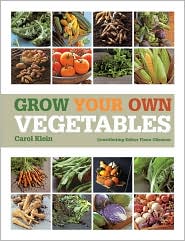 Publisher:
(distributed in the U.S. by Octopus Books)
Paper, 2824 pp., $19.99
This work is wonderfully informative, both an encyclopedia of vegetables and an easy–to–read collection of gardening instructions. The first section of the book helps you plan a vegetable garden, with directions on seeds, soil, weather, and other issues. The abundant illustrations make this book particularly helpful to beginners, with plenty of recommendations. The second section exames 40 popular vegetables, organized with details on growing, harvesting, storing, and dealing with pests. There are additional useful sections, including a glossary, seed sources, and index. Grow Your Own Vegetables is outstanding because it is easy to read, well organized, and abundantly illustrated.
— Elaine Juhl, master gardener and volunteer, Chicago Botanic Garden