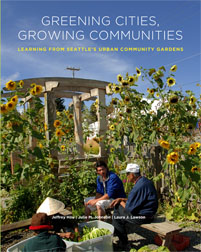 Publisher:
University of Washington Press
paper, 221 pp., $40.00
Although community gardens provide many benefits for urban citizens, few urban policy-makers make them a priority in long-range plans. The authors present the results of their research into this issue with a description and analysis of this innovative landscape type in Seattle. Beginning with a review of the history of urban community gardens, the authors define their many benefits to citizens, which include personal, social, and environmental factors. They point out that the continual evaluation of a given site is important, as neighborhoods change over time, making sites more vulnerable as the properties may have "better use." In their Seattle case study, the researchers summarize critical factors that made six community projects successful, prior to going into the history of each model garden site and its many challenges. The text concludes with the results of their inquiries, a listing of support activities for positive citizen-community leader interaction, and an appeal for landscape professionals to take a more prominent role in the development of similar green spaces in their communities.
— Marilyn K. Alaimo, garden writer and volunteer, Chicago Botanic Garden.