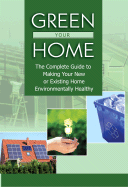 Publisher:
Atlantic Publishing Group
paper, 288 pp., $24.95
Creating a home that is more responsive to contemporary environmental challenges is the theme of this practical guide to employing both natural and man-made resources efficiently and effectively. Author Jeanne Roberts writes that her goal is to alert the readers to "live a more sustainable fashion," one that does not compromise the needs of future inhabitants of the planet. Her focus is on how to increase a home's sustainability from the simplest household measures to remodeling and new construction. She explains terminology and uses case studies to illustrate her tips. Topics range from how to operate appliances so that they use less energy to creating a rain garden to collect moisture. This is an excellent primer for anyone ready to change their own environment in a dramatic and effective fashion.
— Marilyn K. Alaimo, garden writer and volunteer, Chicago Botanic Garden