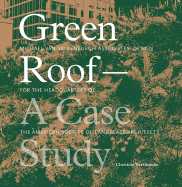 Publisher:
Princeton Architectural Press
cloth, 160 pp., $45.00
Meeting contemporary environmental challenges in urban centers, the concept of the green roof — the terminology for growing vegetation on top of a building — is the focus of this discussion by landscape architect Christian Werthmann. Using an example of this design theme in the work of a noted landscape architecture firm, the author puts forth the argument that new technology has made this idea safe and practical. He reviews the developing methodology that solves earlier technical problems. As an encouragement to others in the field of landscape architecture planning to follow this lead, the text is heavily illustrated with design plans and photographs to demonstrate the careful planning required for a successful design.
— Marilyn K. Alaimo, garden writer and volunteer, Chicago Botanic Garden