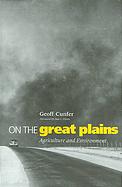 Publisher:
Texas A&M University Press
paper, 292 p., $28.00
The theme of this book is the history of the environment on the Great Plains since its agricultural settlement in the 1870s. Using extensive data collected from agricultural, census, and newspaper records, environmental historian Geoff Cunfer has developed a theory that despite occasional disruptive changes to the region, land use has remained relatively stable over the period. Using case studies of settlers on the Great Plains, he traces farming and grazing practices, crop diversity, the effects of long-term drought, introduction of irrigation methods, and other factors that affected the environment.
What distinguishes his research from prior observations on the subject by other scientists and historians is the depth of the data used in his investigation. The text contains technical charts, tables, and geographic comparisons to support his conclusions. This publication will be of special interest to those concerned with western environmental and agricultural history, as well as management of grasslands.
— Marilyn K. Alaimo, garden writer and volunteer, Chicago Botanic Garden