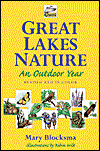 Publisher:
University of Michigan Press
paper, 342 p., $22.95
This highly readable book will appeal to a wide range of readers. Looking out of her window one day, Mary Blocksma realizes that she cannot name one tree that appears in front of her. Prompted by this realization, she sets out over a year to embark on regular nature walks to identify and discover more about the trees, birds, flowers, animals and other creatures that can be spotted near her home on the eastern shore of Lake Michigan. The result: her delightful book Great Lakes Nature: An Outdoor Year.
Written in diary form and with almost daily entries over a complete year, each bird, plant, insect the author encounters and the circumstances under which it was found is shared with the reader. At the end of each entry are boxes or footnotes containing brief facts about such things as distinguishing one species from another among lookalike birds and trees, which seeds different bird species prefer, and the names of the different types of full moon, among many others. Illustrator Robin Wilt provides clear-cut and beautifully colored drawings to accompany each entry. Many of the flora and fauna covered in this book are found over a large part of the United States, so this book will also appeal to those living outside the Great Lakes Area.
— Jennifer Kiernan, library volunteer, Chicago Botanic Garden