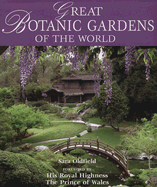 Publisher:
New Holland Publishers (distributed in the U.S. by ACC Distribution, Easthampton, Mass.)
cloth, 160 pp., $39.95
Noted for their horticultural and landscape treasures, sixty of the best botanic gardens around the world are spotlighted in this handsomely illustrated publication, written by botanist Sara Oldfield of the Botanic Gardens Conservation International. After tracing the origins and diversity of botanic gardens, the author explains the current goals of each cited institution. Oldfield organized the work by each botanic garden's location on (or near) specific continents, providing an historical context to each garden and directing attention to the common interests and priorities of neighboring botanic gardens. Her concluding material contains a directory of useful addresses, plants that have been saved by these institutions, and global strategies for plant conservation. This volume is a fine salute to these deserving institutions for their leadership in saving a variety of plants around the world.
— Marilyn K. Alaimo, garden writer and volunteer, Chicago Botanic Garden