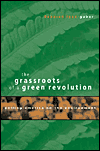 cloth, 279 p., $27.95
Reporting on the current status of the Environmental Movement, Deborah Guber examines the different social attitudes and behavior on which she draws her conclusions. She observes that environmental concern is part and parcel of today's society, but that the consensus of public opinion has varying depths or levels of commitment. Individuals usually give lip service to supporting the environment, but personal dedication may falter when it involves higher prices and any inconvenience. Similarly, politicians may climb on the environmental bandstand to gain voters' support, but when an economic issue arises, it takes precedent over ecology.
She also asserts that incomplete or inaccurate "scientific findings" and sensationalist journalism that paints a gloomy picture tend to mislead many. When there are positive results in the environmental field, these receive little publicity from the news media. She urges "honest debate and tireless compromise" to resolve environmental challenges.
This scholarly, annotated work is well done and quite readable. The reported data give strength to her conclusions.