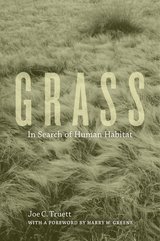 Publisher:
University of California Press
cloth, 217 pp., $34.95
Drawing on lifetime experiences, grassland ecologist Dave Truett speaks of his Texas childhood on a farm and his love of the nearby woodlands. Later in college, when he studied plant ecology and range management, he began to see the value of grassland ecosystems. He reviews in personal anecdotes his conversion to becoming a booster of this environment, noting that grasslands provide turf for games and sports; serve as ranges for stock and are the basis for the cowboy culture; and most importantly that their grains feed the world. He believes there is an urgent need to restore the biodiversity of this habitat through better range management, introduction of the animals that are important to the ecosystem, and restoration of the valuable plant life.
— Marilyn K. Alaimo, garden writer and volunteer, Chicago Botanic Garden