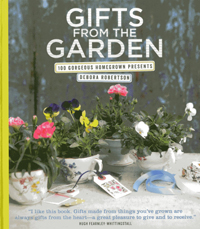 cloth, 176 pp., $24.95.

Readers will find that this is a fun book. It is filled with ideas for gifts for the home, kitchen, and body, created from garden produce. Colorful photographs of herbs, flowers, and plants provide the ambitious with materials for creating gifts from the garden. Within its pages, the gardener and ambitious cook will find instructions on how to package delightful presents for friends, neighbors, family, and even a family cat. Debora Robertson explains how to propagate and attractively package cuttings, fruit, vegetables, and nuts, as well as how to make jam, fruit cheeses, vegetable chips, soaps, body scrubs, pinecone firelighters, and much more. The range of gift and packaging ideas is remarkable. Unfortunately, confusing fonts in the text reduce this work's readability.
- Marilyn K. Alaimo, garden writer and volunteer, Chicago Botanic Garden.