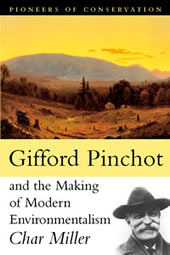 paper, 458 p., $16.00
Gifford Pinchot, founder and first chief of the U.S. Forest Service, is a controversial figure in the conservation field. An advocate of "utilitarian conservationism," the belief of federal regulation in the use of natural resources, he figuratively rode the edge of a philosophical sword. Challenged by groups with economic interests in unhindered resource development and others who wished that wilderness sites remain pristine, he was the trailmaker who helped to establish the regulatory powers of the Forest Service.
Son of a wealthy East Coast family and a graduate of Yale University, Pinchot planned early on to become the first formally trained U.S. forester and the first to hold the most eminent position in the field. Through strong family support and self-promotion, he attained his career goals, becoming a major figure in environmental politics. His biographer, historian Char Miller, provides insight into the life and work of a man who was truly concerned about global resource conservation and the difficulties inherent in a sustainable environment. It was not until recently that the public has begun to appreciate his stature in the environmental field. This award-winning, well-documented biography is fascinating reading, not just for its discussion of early twentieth century environmental politics, but also for its cultural history.
— Marilyn K. Alaimo, garden writer and volunteer, Chicago Botanic Garden