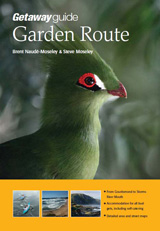 Publisher:
South Africa: Sunbird Publishers
paper, 224 pp., $23.00
Endowed with one of the best climates in the world and an abundance of small wildlife, South Africa's Garden Route, a favorite tour region for vacationers, has been described as an eco-paradise. Travel writers Brent Naudé-Moseley and Steve Moseley provide valuable information for visitors in this handbook. They report on hiking trails and sights, comment on suitable dining places and accommodations of different types and price levels, and provide detailed maps and illustrations of popular routes. This work is a necessary tool for the eco-tourist in South Africa.
— Marilyn K. Alaimo, garden writer and volunteer, Chicago Botanic Garden