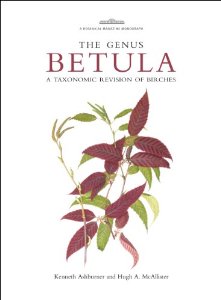 Publisher:
Royal Botanic Gardens (distributed by the University of Chicago Press)
Cloth, 300 pp., $112.00

This book is a complete examination of living birches, part of a series entitled Botanical Magazine Monographs, introduced in 2012. It is a thorough taxonomic review of Betula, including the carefully executed charts, illustrations, and many photographs. A popular tree, the birch is known for its white bark, which has great landscape appeal despite soil, drought, wind, and temperature issues. This detailed account is accessible, aimed not only at scholars and students, but those intellectually curious about these woody plants.
- Adele Kleine, volunteer, Chicago Botanic Garden.