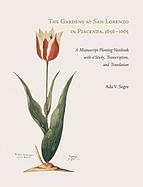 Publisher:
Dumbarton Oaks Research Library Collection
Cloth, 107 p., $95.00
This treatise on ornamental horticulture during the Italian Renaissance by an historian of Italian gardens, Ada Segre, is especially welcome for the link it provides between the traditional pattern of early Italian gardens and the ornamental garden design that followed. The major source of the author's research was a garden notebook, a working tool created by the designer of a garden in Piacenza, Italy, for the dowager duchess of the ruling family. The notebook shows three planting plans for the same site. The series reflects a conceptual progression from the traditional layout to designs showing the use of the modular grid and the influences of astronomy and religion. With so few documented planting plans extant from this period, this historic record in the Dumbarton Oaks Research Library Collection is rare, if not unique.
— Marilyn K. Alaimo, garden writer and volunteer, Chicago Botanic Garden