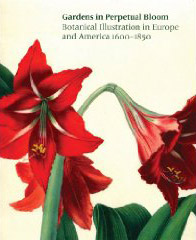 Publisher:
MFA (Museum of Fine Arts) Publications
Paper, 136 pp., $24.95
This work is a brief survey of the history of botanical illustration from sixteenth century herbals to the nineteenth century adaption of photography. Most of the text and illustrations (more than 90 color figures) examines specific works, starting with Besler's magnificent Hortus Eystettensis (1613) and ending with Allen's Victoria Regia (1854). Preliminary text covers not only a history of botany and horticulture as told by the illustrated works but also a quick overview of the major graphic techniques used for the past five centuries. Gardens in Perpetual Bloom provides a concise overview of botanical illustration, decorated with an abundance of excellent illustrations. It is certainly a good starting point for anyone interested in this most profitable marriage of art and science.
— Elaine Juhl, master gardener and volunteer, Chicago Botanic Garden