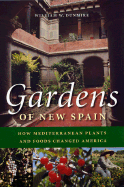 Publisher:
University of Texas Press,
paper, 375 p., $24.95
Plaudits go to the author of this fascinating history on plant migration and its effects on civilizations. Although the focus of the text is on the eventual destination of food crops into American agriculture and cuisine, Dunmire traces major food plants from their places of origin into its introduction into the Spanish culture and then, into the New World. After an examination of both the Pre–Columbian and colonial agricultural conditions in Mexico and the Southwest, he tells about how both the indigenous people and settlers made adjustments in growing operations and their diet, creating a blend of Mediterranean and Native American cuisines that now can be found throughout America.
As the author points out in the prologue, there are few written records extant of the diets of the common man and the crops grown for their sustenance. It is evident that Dunmire came by his information through intensive scholarly research in historical and botanical sources, as well as extensive fieldwork. The result is a classic on the subject.
Anyone who is curious about how a food came to be on the table will find this publication entertaining, informative reading.
— Marilyn K. Alaimo, garden writer and volunteer, Chicago Botanic Garden